Inspired by Work with Dalai Lama, Eve Ekman Creates App to Map Emotions
'While the Atlas of Emotions is a large map on a computer, Eve Ekman has turned to a smaller guide that can be carried around. Her current brainchild, called EmoTrak, "is like having a little Atlas of Emotions in your pocket," she says. The EmoTrak app asks users twice a day to report the trigger, experience and response of their most recent emotion. …  In a pilot study of EmoTrak, Ekman says that even residents in specialties that have high levels of burnout find that their daily emotion tracking reveals that half of their daily emotions are still enjoyable ones. "That very simple practice of bringing awareness of our emotions has the potential to remind us that even amidst the most challenging times we have capacity for being OK," she says.
The impetus for Ekman's EmoTrak built upon work early in her career. While she was working as a social worker in the emergency department at Zuckerberg San Francisco General Hospital and Trauma Center helping patients and their families, she had a realization: her colleagues and coworkers needed help, too. "I could feel palpably their stress and strain and I was very aware of how little support we all had in managing this," she says. So she has dedicated her efforts toward helping health care workers avoid job burnout, and particularly how to support their compassion and empathy toward patients.' – Mitzi Baker on uscf.edu
The app is currently used for research purposes, please click here for more information.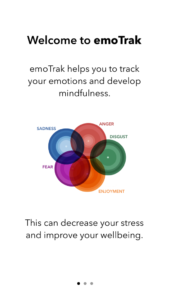 Text above is an excerpt from article by Mitzi Baker: "Inspired by Work with Dalai Lama, Eve Ekman Creates App to Map Emotions"