"Her Eminence Jetsun Khandro Rinpoche's position in the Buddhist world is entirely unique. She is one of the very few fully trained female Rinpoches in the Tibetan tradition. Born in 1968 as the daughter of the late Kyabjé Mindrolling Trichen, she, her younger sister and her mother were the only women growing up among 400 monks at her father's monastery in India. The Mindrolling lineage is one of the rare Tibetan traditions that do not distinguish between male and female heirs. Now one of the most influential and vibrant women teachers, Khandro Rinpoche jetsets tirelessly between her late father's monastery and her own two nunneries in India, her American headquarters Lotus Garden in the Shenandoah Mountains in Virginia, and an ever-increasing number of Buddhist communities who are keen to benefit from her sharp acumen.
In addition to receiving the traditional training usually reserved for male teachers, she also studied journalism, business management, homeopathy and sciences.  With her unparalleled upbringing and training, she has built a reputation as an uncompromising, sharp-witted and unconventional teacher who is never afraid to "rock the boat" as she continues to question the responsibility and role of women in the Buddhist society.
Though Khandro Rinpoche downplays her own significance, her influence both in the East and West can hardly be overstated. Educating and empowering women is at the core of her work. In this book, she opens up about her upbringing, her family and her vision: 'Maybe I can be a medium through which more women become confident, dynamic leaders.' " – dakinipower.com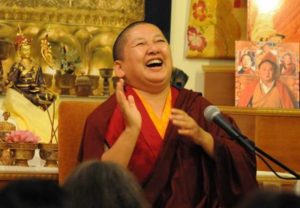 Her Eminence Mindrolling Jetsün Khandro Rinpoche was born as the eldest daughter of Kyabje Mindrolling Trichen Gyurme Künzang Wangyal, the 11th throne holder of the renowned Mindrolling lineage, one of the six main Nyingma lineages of Tibetan Buddhism. Throughout its history, some of the greatest masters of their time have been born within the Mindrolling lineage including the unique lineage of female masters known as the Jetsünma line, a remarkable Mindrolling tradition.
The Jetsünmas, daughters of various Mindrolling Trichens over the generations, have been some of the greatest and most inspirational figures in the history of Tibetan Buddhism. Beginning with Jetsün Mingyur Paldrön (1699-1769), the daughter of Chögyal Terdag Lingpa (founder of Mindrolling), down to Jetsün Khandro Rinpoche, the daughter of the 11th Mindrolling Trichen, Mindrolling has maintained an extraordinary tradition of female teachers. In December 2012, the 13th generation of Jetsünmas began with the birth of Rinpoche's niece, Mindrolling Jetsün Gautami Thrinley Choedron, born to Jetsün Dechen Paldrön and Kunda Britton Bosarge la.
Jetsün Khandro Rinpoche began receiving teachings and transmissions from a very young age from some of the most revered Tibetan masters, such as Kyabje Mindrolling Trichen, Kyabje Dilgo Khyentse Rinpoche, Kyabje Trulshig Rinpoche, Kyabje Taklung Tsetrul Rinpoche, Kyabje Tulku Ugyen Rinpoche and Kyabje Tenga Rinpoche.
For the past two decades, Jetsün Khandro Rinpoche has been teaching in Europe, North America, and Asia. Rinpoche is actively involved with the Mindrolling Monastery in India and in 1993, Rinpoche established the Samten Tse Retreat Centre in Mussoorie, India, as a branch of Mindrolling Monastery, a place of study and retreat for both nuns and Western lay practitioners. The North American Seat of Mindrolling International, Mindrolling Lotus Garden Retreat Centre was established by Rinpoche in 2003 in Stanley, VA, USA, and Rinpoche's land centre, Rigdzin Gatsal, located in Greece is currently under construction. In 2014, Rinpoche established the Mindrolling Ösel Ling centre in Chicago, Illinois, USA.
In addition, Rinpoche leads numerous city centres and associations in many countries including Samten Tse Association in France, Samten Tse Germany, Samten Tse Greece, Samten Tse Denmark, Samten Tse Czech Republic, Samten Tse Poland and Samten Tse Spain. – khandrorinpoche.org