Hopeful Message from WeMove.EU:
It's a cold and foggy morning in Brussels. Together with 20 other activists I have been waiting for Frans Timmermans for more than an hour. The first Vice-President of the European Commission will open the EU conference on plastic strategy today. We have 600,000 signatures from all over Europe to hand over – three kilograms of paper. Will our signatures hold any weight for him? Timmermans and his staff are coming around the corner with quick steps – and his reaction leaves us almost speechless.
He is concerned about the waste of our seas: "I am your ally and I will do my best so that we can present an ambitious strategy by the end of this year". Timmermans, the second-ranking official in the European Commission supports our campaign – this is a real breakthrough!
Are these just empty words? It does not look like it. In his opening speech at the conference, he mentions our petition right at the beginning – to the surprise of the plastics lobby. And shortly after, he posts a video of our delivery on Facebook and Twitter. EU's First Vice-President takes the fight against plastic waste very seriously – and our Europe-wide campaign is of great help to him.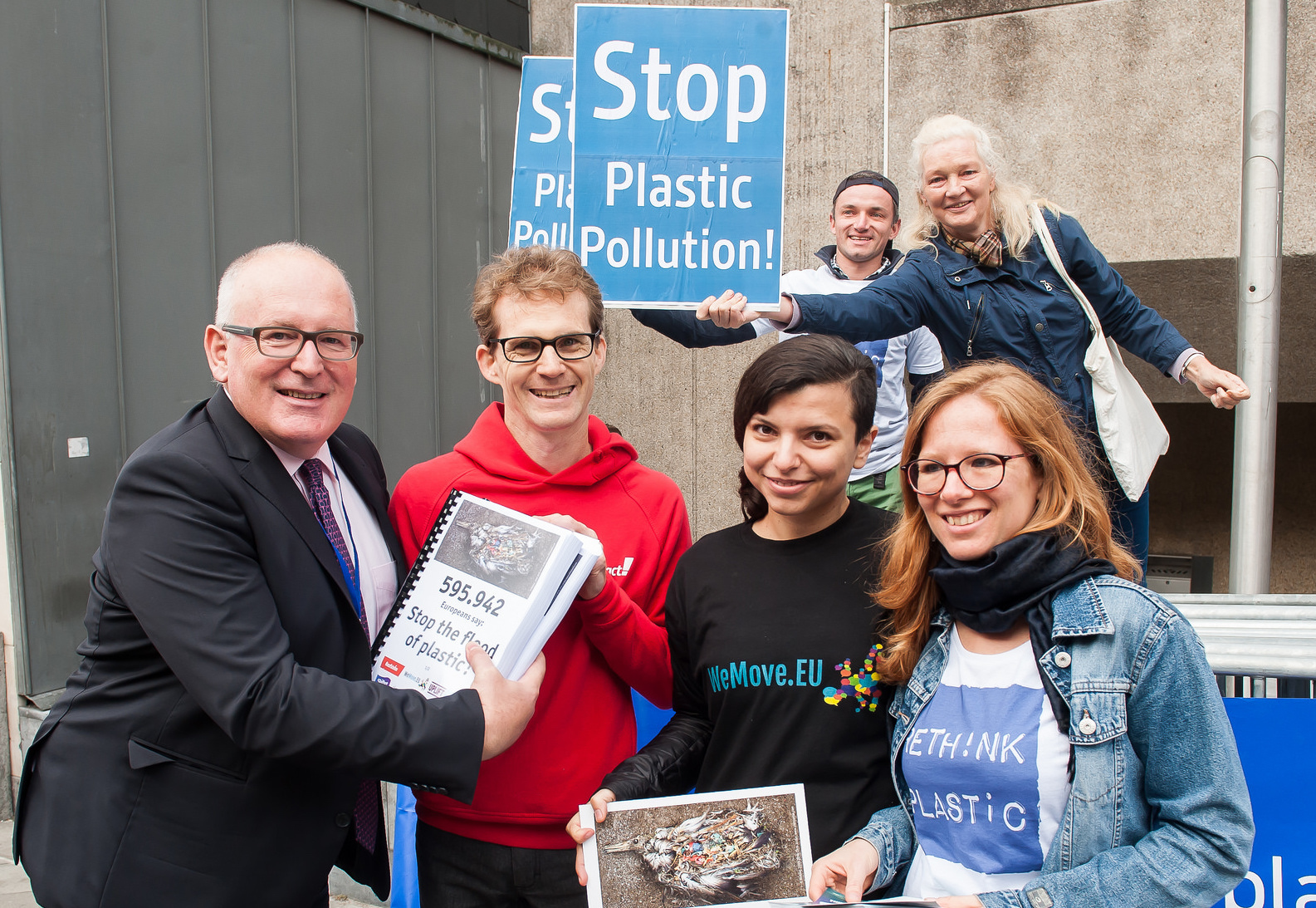 Handing over the signatures to Vice-President Timmermans with our friends from Campact and Rethink Plastic Alliance
We believe that when politicians announce ambitious plans, they deserve our praise.
A wave of support on Facebook and Twitter will encourage Timmermans to follow-through on his ambitious goals and stand up to the plastic industry.
He is very active on social networks, so we can be sure he will notice. Use the buttons below to show your support with a comment or "like":
The fight is not over yet, but this is a huge step forward and we can be proud of it. …
With hope,
Doina (Bucharest), Julia (Warsaw), Jörg (Lübeck), Olga (Bologna), Virginia (Madrid), and the rest of us at WeMove.EU